STATEMENT SNAKESKIN WITH LINZI SHOES
01/05/2015
My wardrobe generally consists of black, black, a little more black, some odd grey, white and beige. And then some more black. Shall I say black once more and maybe in italics just to emphasise that fact? Black!

But despite being a boring bitch going for the more "basic" look, what I do love, is to pair this with a statement item; be it a shoe, be it a bag, a statement coat… you get the drift. All black ehhrthing with a side order of a brighter/more standout piece is my favourite look to go for, and that's exactly what I'll be sporting in today's post.
My "standout item" comes courtesy of Linzi who I have raved about constantly because not only do they have all the options when it comes to styles, colours, prints etc. but they're also ridiculously affordable considering the quality too. And Linzi girl, you done so, so good with this pair!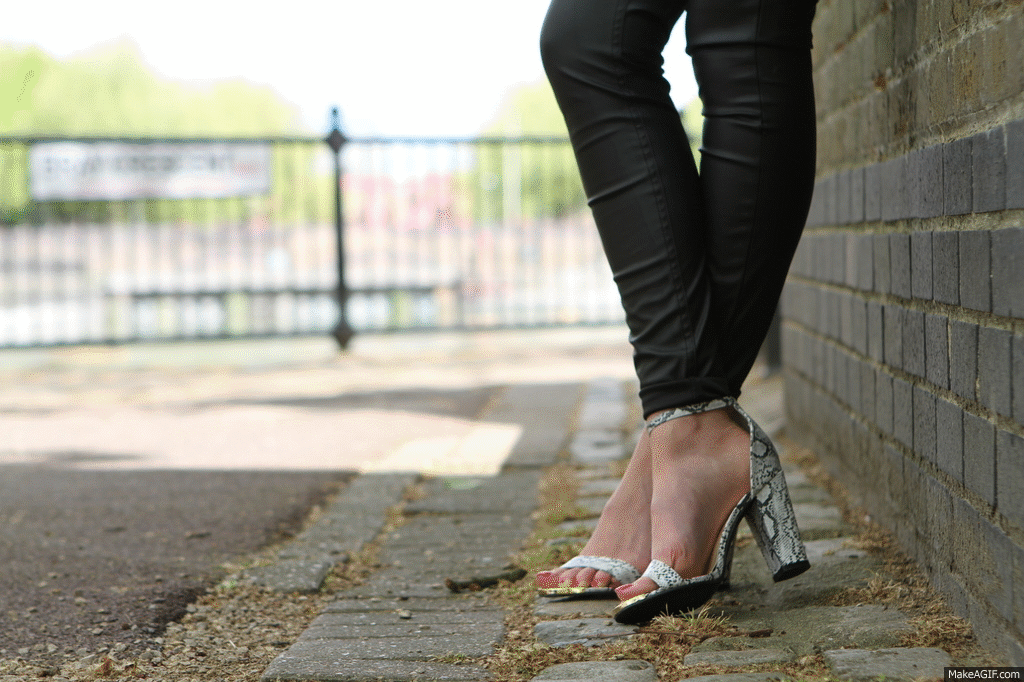 So these are the
Linzi's Nessy heels in monochrome Snakeskin
.. and aren't they just a bloody dream?! To be honest, when Linzi asked if I wanted to pick another pair of shoes to style after my review of the gorgeous Georgina's
here
, it genuinely took me an actual
age
to decide because there are honestly
so
many pairs that I wanted. But I decided on these because despite being a total animal print lover – Kat Slater wardrobe = goals,
forever!
– Snakeskin is without a doubt my favourite. Add in the fact that strappy block heels are my holy grails… and there you have my perfect pair of shoes.
Shoes that I refuse to take off because that are that pretty: Linzi*
Leather trousers that have also adorned my body 24/7 lately: River Island (similar here)
Oversized shirt: ASOS
That leather jacket that I'm still wearing to death: Stradivarius
So, as I got sent those gorgeous shoes, I saved myself some money. [insert hand clapping emoji here] Which obviously means it goes straight into the wedding fund, right? Erm… wrong. I took this as the perfect opportunity to head to Boots and haul like a mad woman because I'm a blogger, and that's just what I do, and erm… YOLO!*

*P.S I have such a love/hate relationship with "yolo", a f**king seriously annoying word, but also an amazing excuse that totally justifies doing anything. #Winning!
Max Factor Colour Intensifying balm, Sumptuous candy – So, I purchased this a couple of days ago and it is already my new favourite makeup product. What I love about this is that it actually packs a punch moisturisation-wise, but also deposits a nice amount of pigmentation. You go Glen Coco Max Factor! Sumptuous Candy is just one of those bubble gum/baby pink shades… sheer enough for everyday, but bright enough to lift the face. (Which the inner Casper the ghost in me loves).
Collection lasting perfection concealer – This was a repurchase after using it years ago – and totally forgetting about it #ShitBloggerSays – For me, there is no concealer that rivals the coverage and lasting power of this bad boy. An incredible concealer, but the best bit of all? It costs £4.19 (currently reduced to £3.99 at Boots, linked above) Thank me later…
So, that brings my little ode/"Dear Linzi, I love you so much, Sincerely Elle" rave to an end. I feel like I should point out that I am not sponsored by Linzi, I am not a brand ambassedor (although I would absolutely love to be) I just genuinely love their shoes. Affordable, well made and a ton of options.
I would love to know if you've ever purchased any shoes from Linzi? What is your go-to style/colour of heels? And is there anything that you recommend picking up from the drugstore? I feel a little makeup haul coming… #FeelingSpendy
As always, thank you so much for reading. I hope you enjoyed this post 🙂
xx