SPONSORED VIDEO: FLAMINGO INSPO
04/05/2015
So, as you can tell from the rather "in your face"/ostentatious – but necessary, see I'm a good girl ASA! – title, this post contains a sponsored video. The video is the campaign for the launch of the new Renault Twingo Flamingo* car. So, what the hell does a car have to do with my blog? Well, I thought exactly the same thing – apart from the fact that my family car has genuinely been a Renault for at least the last 20 years, plus the car is totally Pinterest/Blogger worthy pretty – but when I was told that I had total creative freedom and could base my post around any aspect of the – very funny, very blogger-friendly (i.e the car is the most gorgeous pale pink that would make the perfect nail polish colour 😉 ) – campaign video , which you can view at the bottom of the post, I jumped at the chance.
So, if you've watched the video then you'll know that I could've gone down the polka dot route. I could've gone down the baby blue route. I could've even gone down the musical theatre route. But no, I shunned the obvious/common sense option, and as you are about to see, I went for impersonating a flamingo instead.
Hi, I'm Elle, and I am a disgrace to the world of fashion blogging.
Said flamingo – OK, let's face it, all pink ehhrthing – inspired outfit and makeup look!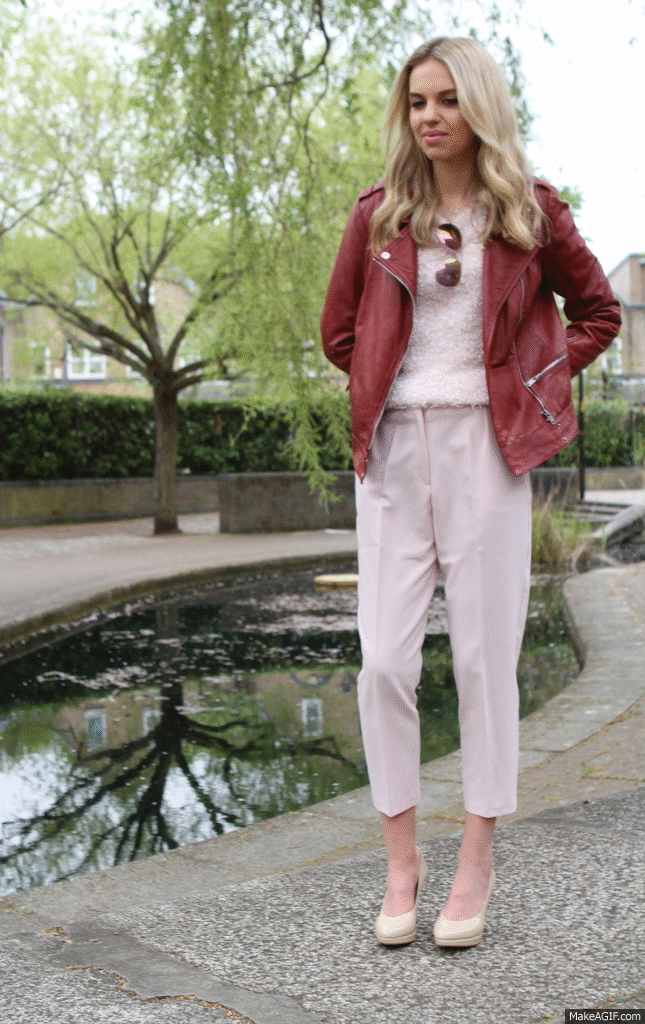 To prove that I don't take myself seriously at all, here I am impersonating a flamingo. [insert "can't look" monkey emoji here] #IdiotOfTheYearAward
Yep, I wasn't joking about the flamingo – oh hi there pink fluffy jumper – and "all pink ehhrthing" theme was I? But you know what, despite looking like a knob, like a glorified fluffy strawberry milkshake, I actually kinda like it. For someone that dresses in black, black, black, the odd bit of grey and a bit more black… this look is definitely out of my comfort zone. But after one too many Pinterest "inspirational quotes" sessions, I had clearly decided that you really do only live once, and it's my birthday life and I can cry dress like an utter tit if I want to. 😉
That Jacket. Again!: Stradivarius
Pink Trousers now on sale: Missguided
Flamingo jumper that I've finally found a use for after 3 years: Primark
Shoes: Aldo
Rayban Wannabe Sunnies: Primark
Any links to the above items that are still in stock can be found in this previous post
here
.
On to one of my favourite glossy pink lip duo's. Now, I have a lot of pink lipsticks, and a lot of pink glosses… so for me to find a favourite i.e one that I wear more than 2 days on the trot, this is seriously big news. #FirstWorldProblems. Said favourites? Tanya Burr's Picnic in the park, which is the prettiest, everyday pink colour. Alongside Mac Angel which I've raved about far too many times on this blog already. The perfect mid toned/nude pink with an amazing long lasting, velvety finish. These lip products together are just… [insert "praise the lord" emoji here].
And because impersonating a flamingo and slathering on pink lips wasn't enough, I also went to town with Urban Decay's Naked 3 palette, using a mixture of shades – which basically means I have no idea which ones I actually went for – with a touch of Nars Orgasm, and that completed my all pink ehhrthing* inspired face.
*I promise I will drop this ehhrthing thing after this post. I want to punch myself in the face as much you do right now.
So, that brings my Flamingo/pink/lipstick fan-girl to an end. Despite being a total neutral/black hoarder when it comes to style, I actually really enjoyed branching out of my comfort zone and wearing something a little different. It felt very Spring like – even if the London weather didn't [insert angry/"get your act together London" emoji here] – and I'll definitely be incorporating some more pastel tones into my wardrobe in the future.
Alongside all the black in the world, obvs ;)…



What do you think about pink items of clothing, do you have a lot in your wardrobe? Looking to invest in some for the warmer months? Also, what is your favourite pink lip combo? I would love to hear your thoughts! 🙂
As always, thanks so much for reading. I hope you enjoyed this post! (… and enjoy the video, it's a catchy one)


*This post was sponsored by Renault Twingo Flamingo. All thoughts and opinions are, as always, my own.